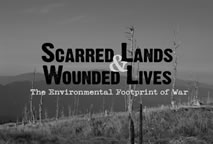 After three years of effort, filmmakers Alice and Lincoln Day premiered "Scarred Lands and Wounded Lives: the Environmental Footprint of War" at the 16th Annual Environmental Film Festival in the Nation's Capital. "Scarred Lands," which opened the 2008 Festival, was warmly received by a packed audience at the Carnegie Institution of Washington (read reviews by the Voice of America, the Chronicle of Higher Education, and SCIENCE).
The screening was followed by a panel discussion with directors Alice and Lincoln Day and several persons interviewed in the film: environmental science professor Saleem H. Ali; Michael Barrett, researcher on environmental consequences of ships sunk in WWII; military and veteran affairs consultant Lt. General Robert Gard, Jr. (U.S. Army, Ret.); climate change scientist Michael MacCracken; defense and foreign policy specialist Marie Rietmann; and Paul F. Walker, authority on nuclear and chemical weapons clean-up programs.
Alice and Lincoln Day and their production team at VideoTakes, Inc. are currently considering several distribution options for "Scarred Lands," including additional film festivals, public broadcast, educational distribution, and home video. Please check back soon for information on future screenings and distribution.