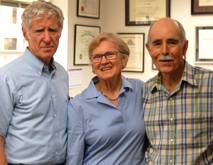 Washington, D.C. - Filmmakers Alice and Lincoln Day interviewed Lester Brown, a leading environmentalist and president and founder of Earth Policy Institute. During his interview, Brown noted that the war in Iraq and the fight against terrorism have diverted public attention from pressing environmental threats.
"Terrorism is a threat, no question about it, but it's not nearly as serious as spreading shortages of water sources, it's not anywhere near as serious as the threat posed by climate change or that from population growth. So we need to try to get things back in focus – it's as though the lens got out of focus, and we can't sort of get it back in focus now."
- Lester Brown
Brown also argued that the earth cannot sustain the economic and population
growth of the last fifty years, a period that has witnessed a nearly three-fold
increase in world population. Unless growth rates are stabilized, our civilization will cross environmental thresholds and the global economy will collapse.
Brown insisted, however, that our society has the resources, technology, and
knowledge to build a sustainable future. Drawing on research for his upcoming book "Plan B, 3.0," Brown proposed a global budget to stabilize population and restore the earth. The latter would require investing in reforestation, creating marine reserves, and increasing water use efficiency. Brown estimates the annual cost of the Plan B budget to be $161 billion – approximately one third of the annual US military budget.
"If you ask the question, objectively, could we reduce the US military budget by a third and shift those expenditures into eradicating poverty, stabilizing population, [and] earth restoration, I think it's clear, it's clear that we would do far more to ensure our future than if we just stay with a half a trillion dollars of US taxpayer money going to military purposes...

When people look at the questions of earth restoration, people say, 'Can we afford that?' That's not the question. The question is, 'Can we afford not to do that?' And the answer is certainly no. What we are talking about is protecting the economy's environmental support systems; if those support systems continue to disintegrate, the economy will eventually itself disintegrate. The economy does not exist in a vacuum, it is entirely dependent on the earth's natural systems and resources, and if we damage and destroy those systems and resources then the economy will eventually decline and one day collapse."
- Lester Brown
To watch video of Lester Brown, please visit our Participants page.