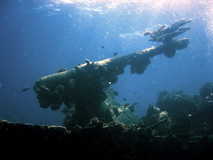 Washington, D.C. - Alice and Lincoln Day recently interviewed Michael J. Barrett, an environmental fellow at the National Geographic Society who is researching war-time shipwrecks and their potential for environmental damage, particularly to coral reefs. Barrett has focused his initial research on the nearly 4,000 destroyed ships on the floor of the South Pacific, the site of countless naval battles between the US and Japan during WWII.
"I see this work as trying to defuse a time bomb in the South Pacific....Research has suggested that these ships will be disintegrating almost totally within ... twenty-five and sixty-five years. Now that's a big range, but when you look at the amount of oil that will be released over that time period and the amount of explosions that can detonate as these ships settle and collapse and disintegrate, it's really not very much time at all."

- Michael Barrett
The first step in cleaning up these sites is finding them and Mr. Barrett is finally providing specific ship location coordinates. Often the governments who are responsible for the waters where these wrecks are found have no idea of the number of wrecks or the potential environmental damage that threatens their coastal environments:
"When I started in the Pacific, the work I was doing was well received if not totally understood. A lot of the local governments' resources down there are very limited. Many didn't even know where the ships were, or how many ships there were at all, some thinking there's only three or four ships here where in fact there's actually about sixty. And these ships were actively leaking fuel into the lagoon."
- Michael Barrett
Even if precise ship locations are determined, governments rarely take the steps necessary to recover the oil and explosives still onboard in part due to expense and also because these ships serve as the final resting place for the sailors who lost their lives on duty.
To watch video of Michael Barrett, please visit our Participants page.