Washington, D.C. - During the month of February, "Scarred Lands and Wounded Lives" was in production in Australia. Filmmakers Alice and Lincoln Day took the opportunity to spread word about the documentary and interview several notables along the way.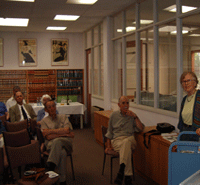 The Days started out in Melbourne, where they presented the trailer for the film and led a discussion about it before an audience of academics, clergy, and public servants, as well as a former Australian ambassador to the United Nations. The group was assembled by old friends of the Days: a former Deputy Prime Minister in the previous labor government and his historian wife. The goal of the hosts was to set up a support group for the film in Australia.
From Melbourne they went to Canberra, where they spent several days researching in the National Film and Sound Archive and filmed an interview with Dr. Sue Wareham, former president (for 8 years) of Medical Association for the Prevention of War, the Australian affiliate of International Physicians for the Prevention of Nuclear War, which was awarded the Nobel Peace Prize in 1985.
Then, in Sydney, they filmed an interview with Dr. Anne Noonan, a physician and psychiatrist who works with aboriginal populations in central and northwestern Australia. Dr. Noonan has a particular interest in the impact on aboriginal health and community life of the nuclear tests conducted by the British in Australia during the period of the Cold War
The Days also spoke at some length by telephone with Yami Lester, an aborigine blinded by what he describes as a "black mist" that originated in one of the British tests and engulfed his settlement, causing extensive, long-term illness among the inhabitants. He is credited with getting the Australian government, decades after the event, to undertake a Royal Commission inquiry into its human and environmental consequences. Dr. Noonan is acquainted with Yami Lester, and the Days hope to be able, through her, either to interview him or to include some footage of an interview he did, some years ago, for the Australian Broadcasting Service.
"Scarred Land and Wounded Lives" is still in production, but elements of the Australia trip are already making their way into the edit.
Alice and Lincoln Day returned in time for their work-in-progress to be screened at the 2007 D.C. Environmental Film Festival.