Burlington, VT. Filmmakers Alice and Lincoln Day visited the University of Vermont to interview Dr. Saleem H. Ali (see Participants), Associate Professor of Environmental Studies at the Rubenstein School of Natural Resources. As an advisor to the United Nations Environment Programme in the field of environmental peace-building, Dr. Ali spoke with the Days about the movement to establish trans-boundary conservation zones, or "peace parks."
"Historically," notes Ali, "the first peace park was between the U.S. and Canada, and that is the Waterton-Glacier International Peace Park on the border of Montana and Alberta. Nowadays, of course, we do not think of the United States and Canada as having any hostility towards each other, but the aim of that peace park was not just to build neighboring conservation areas, but to have better relations between the two countries."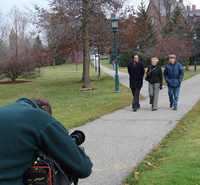 Ironically, notes Dr. Ali, the "common aversion" of a shared environmental crisis can bring together states with vastly divergent interests. "The Indus Basin Agreement, which was negotiated between India and Pakistan with the help of the World Bank in the 1960s, is an excellent example on how you can get cooperation occurring, even when both sides are in a state of armed conflict…Water is potentially a source of conflict because if you can use it as a means of stifling the economy – for example, India building a dam and not allowing water to flow into Pakistan – [that] could lead to a very serious crisis situation in Pakistan. But a realization that this kind of system would be potentially destructive for both sides has led to cooperation."
Throughout his interview with the Days, Dr. Ali repeatedly warned against the temptation to focus solely on the negative, urging people, instead, to consider the environment as common grounds for building peace.
My experience with environmental peace-building initiatives – whether it's through trans-boundary conservation zones, peace parks, environmental treaties between countries that otherwise have tremendous antipathy and hatred towards each other – leads me to believe that environmental issues are, indeed, a very promising avenue for building better ties between countries, and resolving many of the most contentious and challenging conflicts of our times.
-Dr. Saleem H. Ali

To watch video of Dr. Ali, please visit our Participants page.