July 10, 2007
FILMMAKERS INTERVIEW LESTER BROWN OF THE EARTH POLICY INSTITUTE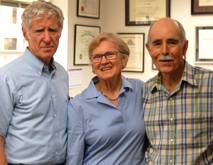 Washington, D.C. - Filmmakers Alice and Lincoln Day interviewed Lester Brown, a leading environmentalist and president and founder of Earth Policy Institute. During his interview, Brown noted that the war in Iraq and the fight against terrorism have diverted public attention from pressing environmental threats.
"Terrorism is a threat, no question about it, but it's not nearly as serious as spreading shortages of water sources, it's not anywhere near as serious as the threat posed by climate change or that from population growth. So we need to try to get things back in focus - it's as though the lens got out of focus, and we can't sort of get it back in focus now."
- Lester Brown
Brown also argued that the earth cannot sustain the economic and population
growth of the last fifty years, a period that has witnessed a nearly three-fold
increase in world population. Unless growth rates are stabilized, our civilization will cross environmental thresholds and the global economy will collapse.
Brown insisted, however, that our society has the resources, technology, and
knowledge to build a sustainable future. Drawing on research for his upcoming book "Plan B, 3.0," Brown proposed a global budget to stabilize population and restore the earth. The latter would require investing in reforestation, creating marine reserves, and increasing water use efficiency. Brown estimates the annual cost of the Plan B budget to be $161 billion - approximately one third of the annual US military budget.
"If you ask the question, objectively, could we reduce the US military budget by a third and shift those expenditures into eradicating poverty, stabilizing population, [and] earth restoration, I think it's clear, it's clear that we would do far more to ensure our future than if we just stay with a half a trillion dollars of US taxpayer money going to military purposes...

When people look at the questions of earth restoration, people say, 'Can we afford that?' That's not the question. The question is, 'Can we afford not to do that?' And the answer is certainly no. What we are talking about is protecting the economy's environmental support systems; if those support systems continue to disintegrate, the economy will eventually itself disintegrate. The economy does not exist in a vacuum, it is entirely dependent on the earth's natural systems and resources, and if we damage and destroy those systems and resources then the economy will eventually decline and one day collapse."
- Lester Brown
To watch video of Lester Brown, please visit our Participants page.
July 10, 2007
FILMMAKERS INTERVIEW MICHAEL BARRETT OF THE NATIONAL GEOGRAPHIC SOCIETY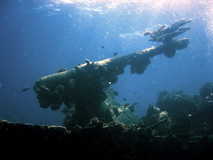 Washington, D.C. - Alice and Lincoln Day recently interviewed Michael J. Barrett, an environmental fellow at the National Geographic Society who is researching war-time shipwrecks and their potential for environmental damage, particularly to coral reefs. Barrett has focused his initial research on the nearly 4,000 destroyed ships on the floor of the South Pacific, the site of countless naval battles between the US and Japan during WWII.
"I see this work as trying to defuse a time bomb in the South Pacific....Research has suggested that these ships will be disintegrating almost totally within ... twenty-five and sixty-five years. Now that's a big range, but when you look at the amount of oil that will be released over that time period and the amount of explosions that can detonate as these ships settle and collapse and disintegrate, it's really not very much time at all."

- Michael Barrett
The first step in cleaning up these sites is finding them and Mr. Barrett is finally providing specific ship location coordinates. Often the governments who are responsible for the waters where these wrecks are found have no idea of the number of wrecks or the potential environmental damage that threatens their coastal environments:
"When I started in the Pacific, the work I was doing was well received if not totally understood. A lot of the local governments' resources down there are very limited. Many didn't even know where the ships were, or how many ships there were at all, some thinking there's only three or four ships here where in fact there's actually about sixty. And these ships were actively leaking fuel into the lagoon."
- Michael Barrett
Even if precise ship locations are determined, governments rarely take the steps necessary to recover the oil and explosives still onboard in part due to expense and also because these ships serve as the final resting place for the sailors who lost their lives on duty.
To watch video of Michael Barrett, please visit our Participants page.
May 29, 2007
FILMMAKERS INTERVIEW UNITED NATIONS ENVIRONMENT PROGRAMME'S DAVID JENSEN
Washington, D.C. - Filmmakers Alice and Lincoln Day interviewed the United Nations Environment Programme's David Jensen (see Participants), the Policy and Planning Coordinator at the Post-Conflict Branch. Jensen's work for the UNEP has taken him to Afghanistan, Iraq, Serbia, Sudan, and Liberia to assess damage to the environment caused by armed conflict.
In 2002, Jensen produced and directed the documentary, "The Other Side of Afghanistan," which follows the UNEP's efforts to rehabilitate the Afghan environment after three decades of war (archival footage from Jensen's documentary will be featured in "Scarred Lands, Wounded Lives.") During his interview with the Days, Jensen spoke about the legacies of deforestation and unexploded ordnance in Afghanistan.
The deforestation we see in Afghanistan is a product of three forces. First of all you have the Mujahideen that were using the forests for tree cover… The Soviets destroyed some of the forest to prevent that. Second of all, you have the Afghans themselves harvested the forests and stockpiled the wood because they feared that they would be taken away during the collectivization process. And third you had landmines that were put into agricultural areas. By putting the landmines into agricultural areas it forced people to find other areas to grow food, and the most obvious were the forests and woodlands of the country. So those three factors have led to virtual 100% deforestation in some areas.
- David Jensen
During the Soviet-Afghan War, northern Afghans lost much of their economy with the disappearance of pistachio forests, forcing them to adopt less sustainable types of agriculture. As Jensen notes, sheep grazing in former pistachio woodlands now consume most seedlings, preventing reforestation. Grazing also causes extreme soil erosion, which further hampers reforestation and destabilizes Afghan society.
If [Afghans] don't have wood to burn to cook with, to heat their homes with, if they don't have water to drink, they leave. And you see massive displacement happening, we call it "environmental refugees," if you will. But people are leaving their homes, moving into urban areas, this creates a demand on resources, it creates a demand on infrastructure, and ultimately displacement undermines the peace process.
- David Jensen
To watch video of David Jensen, please visit our Participants page.
April 4, 2007
FILMMAKERS TAKE INTERNATIONAL PRODUCTION TO AUSTRALIA
Washington, D.C. - During the month of February, "Scarred Lands & Wounded Lives" was in production in Australia. Filmmakers Alice and Lincoln Day took the opportunity to spread word about the documentary and interview several notables along the way.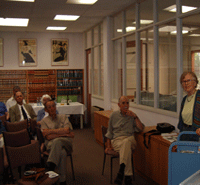 The Days started out in Melbourne, where they presented the trailer for the film and led a discussion about it before an audience of academics, clergy, and public servants, as well as a former Australian ambassador to the United Nations. The group was assembled by old friends of the Days: a former Deputy Prime Minister in the previous labor government and his historian wife. The goal of the hosts was to set up a support group for the film in Australia.
From Melbourne they went to Canberra, where they spent several days researching in the National Film and Sound Archive and filmed an interview with Dr. Sue Wareham, former president (for 8 years) of Medical Association for the Prevention of War, the Australian affiliate of International Physicians for the Prevention of Nuclear War, which was awarded the Nobel Peace Prize in 1985.
Then, in Sydney, they filmed an interview with Dr. Anne Noonan, a physician and psychiatrist who works with aboriginal populations in central and northwestern Australia. Dr. Noonan has a particular interest in the impact on aboriginal health and community life of the nuclear tests conducted by the British in Australia during the period of the Cold War
The Days also spoke at some length by telephone with Yami Lester, an aborigine blinded by what he describes as a "black mist" that originated in one of the British tests and engulfed his settlement, causing extensive, long-term illness among the inhabitants. He is credited with getting the Australian government, decades after the event, to undertake a Royal Commission inquiry into its human and environmental consequences. Dr. Noonan is acquainted with Yami Lester, and the Days hope to be able, through her, either to interview him or to include some footage of an interview he did, some years ago, for the Australian Broadcasting Service.
"Scarred Land & Wounded Lives" is still in production, but elements of the Australia trip are already making their way into the edit.
Alice and Lincoln Day returned in time for their work-in-progress to be screened at the 2007 D.C. Environmental Film Festival.
March 9, 2007
DC Environmental Film Festival Offers Sneak Preview of Documentary about the Environmental Consequences of War
Washington, D.C. - The Fund for Sustainable Tomorrows is pleased to announce that a segment of "Scarred Lands & Wounded Lives: The Environmental Footprint of War" will be shown at American University on March 20 during the 2007 DC Environmental Film Festival.
"Scarred Lands," by filmmakers Alice and Lincoln Day, is about the environmental damage inflicted by war and the preparation for war. In 2006, the Days released a trailer for the film. This year, audiences will see a segment of the work-in-progress that focuses on the environmental impacts of combat.
The work-in-progress, produced for the Days by VideoTakes, Inc., will be featured during the DC Environmental Film Festival's "Evening with Chris Palmer." Palmer, director of the Center for Environmental Filmmaking and CEO of VideoTakes, Inc., will screen a variety of important environmental films.
The Days actually decided to make the film because of the DC Environmental Film Festival. After nine years of experience reviewing films at the festival, the Days concluded that the ecological footprint of war
has been only minimally addressed on film, and that film is particularly well-suited for presenting this topic to a broad and diverse audience.
VideoTakes' staff contributing to the work-in-progress included Dan Gallagher, writer and editor, Sandy Cannon-Brown, VideoTakes' president, and Alex Lucas who provided research for the archival footage.
Join us Tuesday, March 20, at 7:00 p.m. in the Wechsler Theatre at American University, for this exclusive preview of the Day's powerful film.